If it's big enough for all your wish list, renovate your basement.
Whether you call it a rumpus room, rec. room, basement family room, the subterranean space below your main floor is like a buried treasure. Although it may hover near the bottom of your priority list for renovating, this underused space can be pure gold in the form of useable square footage.
Many basements houses furniture, odds and ends, laundry, storage, tools, and sporting equipment. I've often said that the basement is where old furniture goes to die.
A newly renovated family room that's bright and cozy.
A Basement Family Room Can Fulfill the Wishlist
But, using all the available square footage in your home for living makes sense. If you can add a fitness area, it saves running to (and paying for) a gym membership. A big screen TV with comfortable seating replaces expensive courtside seats and theatre tickets, how about a wine room? Well, why not. If that's your passion bring it home and show it off.
Basements are a great place to feature your hobbies and passions.
Creating Zones
Don't forget comfy seating (and creating zones).
Sometimes that includes a gym, a media lounge, comfortable seating for entertaining, a space for dining with a servery (secondary kitchen) and a cool pool table. How do you have it all? Check out this newly renovated basement.
See-through Gym
A glass wall separates the gym from the rest of the room.
Home gyms tend to get tucked into a corner of the basement, but if you have space, use it. Adding a separate TV and a sheet of glass for privacy helps the gym look like part of the whole space visually, but still separate.
Dining in the Basement? Yes!
If it's big enough to accommodate one, add a dining room-sized table and comfortable seating. If you have space why waste time running up and down stairs for food and drinks? Basements tend to have lower ceilings but you can add light to brighten the space. Try to keep the ceiling at its highest and box in the ductwork (mirrored over the tabletop) and add crown molding. It will look like a coffered ceiling.
Compact and efficient, the wet bar or servery acts as a convenient second kitchen
Solid surface countertops are low maintenance and keep the area light and clean looking. A dishwasher, sink, bar fridge, storage space and microwave all fit in perfectly. Relocating water lines where you need them in a basement isn't usually a problem. Moving a toilet stack, however, is major work so we kept the bathroom in the same location and planned our wet bar in a separate location.
The Gathering Spot, The Media Zone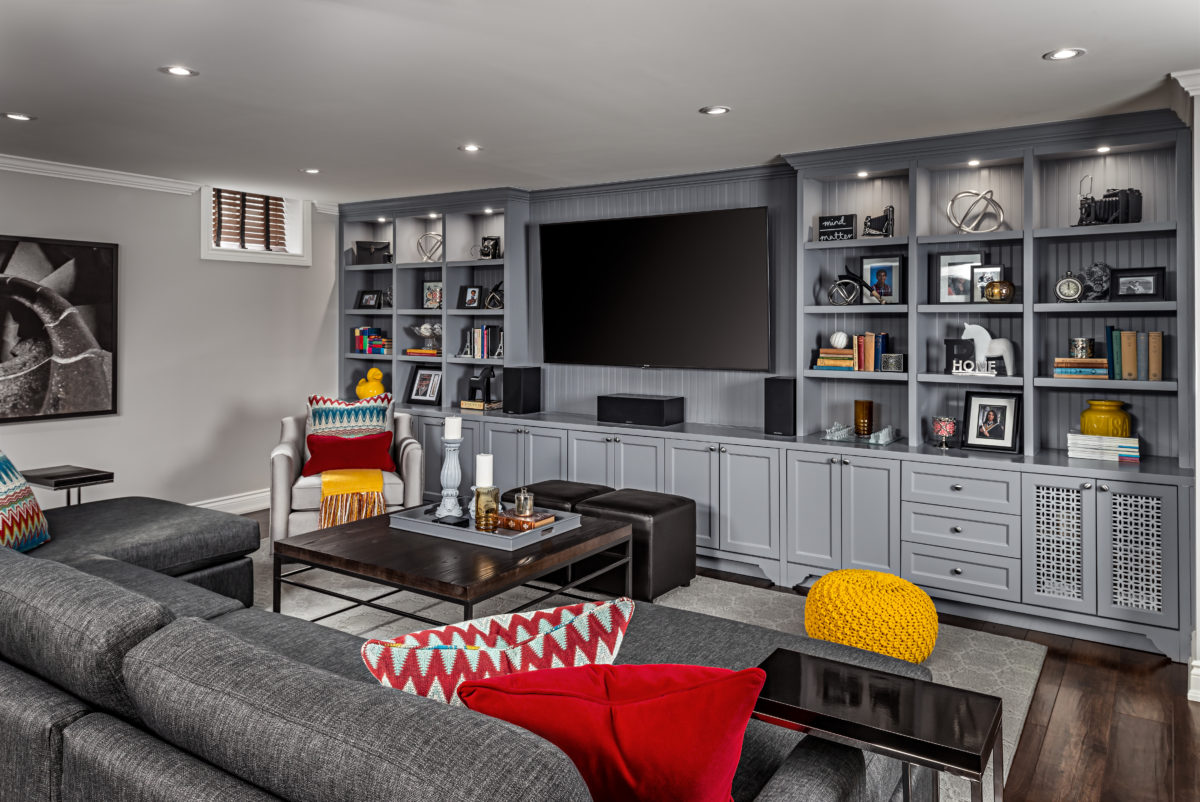 Fabrics are hard-wearing and pillows, accents and throws add pops of colour throughout.
The media lounge is centered on the large TV so we added Shaker style cabinetry but instead of white, we chose grey to keep it casual and homey. Open shelves for books and accessories also help warm up the room so it's not just about the TV.
Rough-hewn wood surfaces tie the dining zone with the media lounge—the floors throughout looks like the same wood but here's a secret… this is a luxury vinyl plank floor. Even up close it's hard to tell it's not wood! It's ¼" thick, waterproof, easy to install vinyl.
The Game Zone
Adding activities the whole family loves makes the basement a homey family space. Plaque-mount favourite posters and enjoy a game of pool.
The basement can be the perfect space for cool people to chill.
When it comes to finding room in your house for all your entertaining needs, look no deeper than the basement. It's the perfect space for cool people to chill.