Our Favorite Countertop Options
But I love them all…
When you start dreaming about renovating your kitchen or bathroom, countertops are usually the very first thing you envision ripping out and replacing! Like many other areas of renovation, once you begin shopping around for a new countertop, the options are endless and the nicest options begin to stick out as the ones you don't want, but you need.
Today, we're going to share with you our favorite countertop options. There's a great countertop out there for every budget, it's just a matter of envisioning which is best for your space and your household's needs.
QUARTZ
For those that love the look of marble but want the ease of a low-maintenance countertop, quartz is the perfect choice! Quartz countertops are durable, easy to clean, easy to maintain, and look great in every space.
Seen above, quartz countertops are man-made, so there is little variation in the batches. The sample you pick will likely resemble the final product.
---
QUARTZITE
Similar to quartz is quartzite. Unlike quartz, quartzite is a natural stone, and therefore will have more variation among veining and coloration from batch to batch. Quartzite is durable and is actually a bit more heat and scratch resistant than quartz.
Above you can see some images of our favorite quartzite, Taj Mahal Quartzite.
---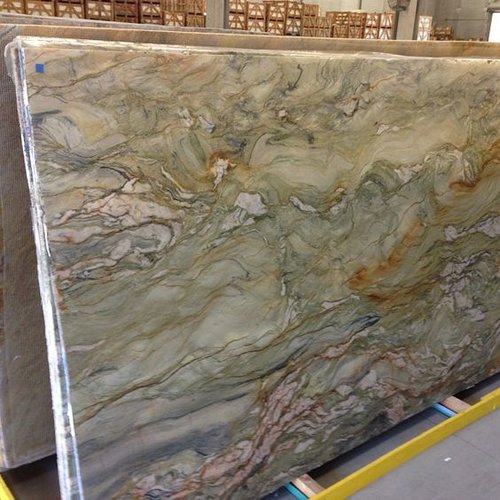 GRANITE
Granite is quite literally rock-hard, and the great thing about granite is that even if it does chip, repairing granite can be done easily and can usually be a small DIY project. More variation of color and veining can be found in granite than in quartz, so there's lots to choose from.
We don't install granite often, but above you can see some of our favorite granite slabs.
---
MARBLE
Marble is naturally heat resistant, and it's a wonderful choice for a countertop surface. Every slab of marble is different, so the look of marble in your home is truly unique. Marble is also usually stained and/or sealed for extra protection.
We typically don't suggest installing marble in kitchens because it is so porous.
---
TRAVERTINE
The Colosseum was created form Travertine, so if durability is a question, you've got your answer right there. Travertine countertops are available in cross-cut or vein-cut slabs, and both look great. Travertine tops can also be used in outdoor areas, like around a fire-pit or as a countertop adjacent to your BBQ.
Travertine is a bit more pricey, but it's long-lasting and will add value to your home.
---